in World News
Christians fear being excluded from Australia's 12K intake of Syrian refugees

Christians fear being excluded from Australia's 12K intake of Syrian refugees
The Catholic Archbishop of Sydney has voiced concern that Australia's intake of 12,000 Syrian refugees will mostly feature Muslims rather than Christians, Yazidis and Jews. Critics say the UN's selection process for refugees has failed to target "vulnerable minorities."
Archbishop Anthony Fisher told The Weekend Australian that the community and Oriental Christians were feeling "very anxious," unable to "get clarity on what the Australian government is trying to achieve."
He said Islamic State was meanwhile determined to "exterminate or enslave" Christians.
"Groups like the Yazidis, Christians and Zoroastrians are at peril of extinction in the Middle East at the hands of Daesh," he told the newspaper, using a pejorative acronym for Islamic State.
Last month the Archbishop of Aleppo, Jean-Clement Jeanbart, said that Christian communities are the "prime target" of Islamic State's "religious cleansing campaign."
"We are facing the rage of an extremist jihad; we may disappear soon," he warned.
READ MORE: House votes for bill making Syrian refugee admission almost impossible
Australia's federal government has vowed that the intake of Syrian refugees will include people from all affected communities.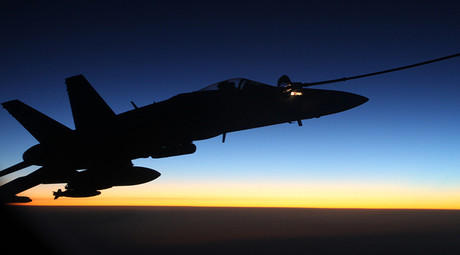 Australian Air Force completes first anti-ISIS mission in Syria
Labor MP Matt Thistlethwaite noted that Australia's intake of refugees has been based on the advice of the UN's humanitarian agency, however.
"It may be the case that there will be quite a few Christians who are taken by the Australian government, but that has nothing to do with their religious background – it has everything to do with urgency and need," he told Sky News.
Meanwhile, the requirement for refugees to be registered with the UN's refugee agency has been causing confusion, because those who are outside the official UN camps in Syria are therefore not registered.
According to Eastern Christian Welfare Australia, Christians are afraid to go to the official refugee camps because they were predominantly filled with Muslims, and had been infiltrated by the terrorist fighters.
"Vulnerable Christian and minority refugees who are not registered with the UNHCR or who do not have immediate family members in Australia are caught up in the bureaucracy," its statement to The Weekend Australian said.
Since the beginning of the armed conflict in Syria, the numbers of Christians in the country has dropped from 2.2 million to 1.2 million, Konstantin Dolgov, the Russian Foreign Ministry's envoy for human rights, said late last month.
In September,  ISIS delivered an ultimatum to Christians from the city of Al-Qaryatayn in the southeast of Homs Governorate, which they captured in August, making them choose between converting to Islam, signing a contract, paying Jizya (a tax imposed on non-Muslims) or leaving, the Syrian Observatory for Human Rights reported. The jihadists reportedly issued "11 commandments" as part of a contract that guarantees safety to the Christian population living in the Syrian town of Al-Qaryatayn controlled by the terror group. The stipulations prohibit the establishing of churches, exposing Muslims to Christian religious symbols, undermining Islamic State, possessing weapons and trading pork or wine. On top of these measures, the terrorist group has taken away the IDs of Christians.
https://www.rt.com/news/322990-christians-blocked-australia-refugees/