in World News
ISIS: We're Following The "Prophet" Mohammed's Example When We Kill Women And Kids
Propaganda magazine seeks to gain new supporters by justifying atrocities
Isis has launched an "extremely defensive" propaganda effort to defend its slaughter of women and children as it struggles to retain territory, troops and attention
The latest edition of the terrorist group's Rumiyah magazine celebrated bombings that killed at least 45 people marking Palm Sunday at Coptic churches in Egypt.
Hundreds of people attended the victims' funerals, with Egyptians of all religions uniting to condemn the bloodshed and the government threatening a new crackdown.
Jean-Marc Rickli, a research fellow at King's College London and the Geneva Centre for Security Policy, said that even for some of Isis's supporters attacks on churches in the Arab world is "crossing a red line".
"Isis is really seeking to justify its actions, not only in the Middle East but also in the West and Asia. It's very defensive," he told The Independent.
"They've got a double challenge – as well as Isis is losing position, al-Qaeda is reinforcing theirs – especially in Syria.
"They still have to maintain momentum to attract new candidates but also they have to justify that what they're doing, which is contrary to what most people would think is right."
Opponents of Isis, including rival terrorist groups, have cited its killing of women and children – particularly Muslims – in indiscriminate terror attacks as proof of their takfir (disbelief).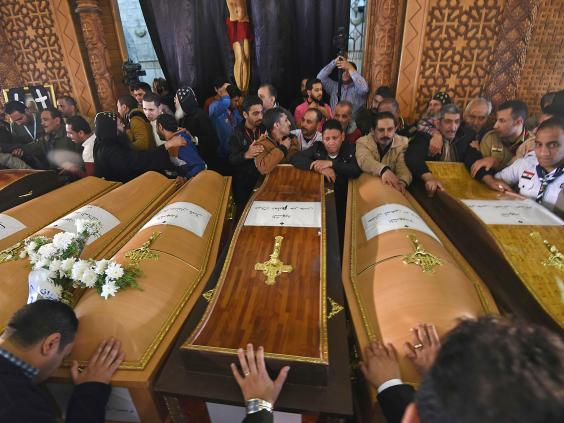 Christians are also afforded protection under sharia as protected "dhimma", and were required to pay a special tax under caliphates in the Islamic Golden Age.
In an "interview" in Rumiyah, the leader of Isis's faction in Egypt admitted that the "prevailing trend in many people's reactions is that of denunciation, as well as disassociation … and of offering condolences".
But in a lengthy propaganda article, Isis sought to justify its actions by claiming that "belligerent" Christians in Egypt deserve no protection.
It said it was "permissible" to murder all men and take women, children, the elderly and ill as slaves.
"With regards to those of the non-combatant women and children from among the belligerent Christians who are killed unintentionally, their blood is waste," the article continued.
It claimed that the murder of women and children in indiscriminate terror attacks or bombardment was also allowed, citing Mohamed's use of catapults in a medieval city siege.
Isis also attempted to justify its own use of children as suicide bombers and child soldiers, having set up military training camps and even a jihadi alphabet app to start indoctrination as early as possible.
Parents escaping the group's rule have told of their efforts to resist Isis's bloody curriculum, which includes watching gory propaganda videos and bomb-making, and the group is now targeting mothers specifically with its propaganda.

An article in Rumiyah said "righteous offspring will to bring forth from us a generation that will wage jihad", ordering women to live in its territories to "painstakingly endeavour" to use their children for the terrorist group's benefit.
"Every woman to whom Allah has granted the blessing of giving birth in the Islamic State should take advantage of this tremendous grace," it said.
"They [should] grow up with their eyes becoming accustomed to seeing weapons and equipment, including rifles, tactical vests, bullets, grenades, and explosive belts."
Isis encouraged women to force their children to watch and read its propaganda to "nurture the love of jihad and hatred towards their enemies".
The group conceded that mothers "may hear criticism from some people" but claimed there would be heavenly reward.
The propaganda magazine, which is published in many languages, also ordered foreign women to ensure their children learn Arabic "correct and free of linguistic errors".
Isis has increasingly used child fighters and suicide bombers to defend its waning territory in Syria and Iraq – most prolifically in the ongoing battle for Mosul, where thousands of militants have been killed.
A lengthy speech by the group's official spokesman, Abul-Hasan Al-Muhajir, acknowledged losses and told soldiers not to "weaken", while making a fresh pitch for new recruits.
After years of sustained condemnation for other terrorist groups, he claimed that Isis has "not closed its doors" on defectors from elsewhere.
http://www.independent.co.uk/news/world/middle-east/isis-islamic-state-egypt-attacks-killing-women-children-suicide-bombings-child-soldiers-territory-a7721681.html