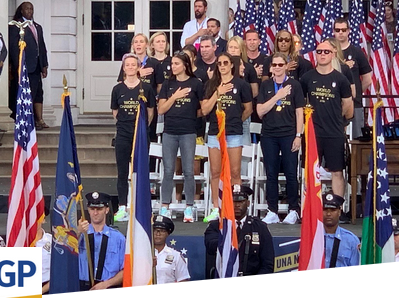 in Featured World News
'Hide Your Kids! Hide Your Wives!…We Got the Key to the MotherF***ing City!'
Trashy US Women's World Cup Soccer Champs Utter Profanities All During NYC Parade
The U.S. women's World Cup soccer champions team was honored by New York City with a ticker tape parade on Wednesday that was attended by thousands of young girls and women celebrating the repeat championship by the team. While they are held up as role models for girls, the players carried on like street trash throughout the parade and City Hall 'key to the city' ceremony.
Girls at the parade look up to the women players:
"They make us work harder and show us we can do what we love when we get older," one girl at the #USWNTParade says.

"They inspire me to follow my dreams," her friend says.
https://t.co/rPQai0gC0i pic.twitter.com/E8juTdWguE

— CBS News (@CBSNews) July 10, 2019
Several video clips show the players celebrating and cursing. And cursing. And cursing. Even in the modern era where occasional profanity slips out from professional athletes, the constant stream of public profanity by the women's soccer team is unprecedented in professional U.S. sports–especially for a team representing the nation in world body competition.
The most shared video is of Ashlyn Harris riffing on the classic Antoine Dodson video in a livestream from the parade. The Daily Mail's David Martosko transcribed:
USWNT soccer player at the parade, into the camera: "Hide your kids! Hide your wives! And lock your f***ing doors! Because we've got the key to the mother-f***ing city and I'm coming for all y'all bi***es!'
USWNT soccer player at the parade, into the camera: "Hide your kids! Hide your wives! And lock your f***ing doors! Because we've got the key to the mother-f***ing city and I'm coming for all y'all bi***es!'
— David Martosko (@dmartosko) July 10, 2019
everyone in New York City upon finding out from @Ashlyn_Harris that the #USWNT has keys to the city:

"YES!!!!!!COME THE HELL IN!!!!!!!!!! SAVE US!!!!!!"#USWNTParade pic.twitter.com/DTFdJ6U3Cf

— Jenna Amatulli (@ohheyjenna) July 10, 2019
Megan Rapinoe swears during her speech at City Hall:
And, of course, her awesome (and NSFW) NYC shout-out to close pic.twitter.com/eRCNMYqntH

— Marcus Gilmer (@marcusgilmer) July 10, 2019
Ashlyn Harris swearing during livestream from the parade:
lol pic.twitter.com/nvdF0zkgiH

— Danny (@recordsANDradio) July 10, 2019
mood pic.twitter.com/lb3lnpLV5C

— Danny (@recordsANDradio) July 10, 2019
The vainglorious celebration of self:
WOMEN OWNING THEIR VICTORIES AND PRAISING THEMSELVES IS A WHOLE VIBE 👏🏼👏🏼👏🏼@mPinoe, @Ashlyn_Harris 2020!!!!#USWNTParade pic.twitter.com/EHM9SxhLIQ

— Jenna Amatulli (@ohheyjenna) July 10, 2019
Copy in case of deletion:
Deleted video of Drunk, belligerent, soccer player's
Real role models huh? pic.twitter.com/VKta082gdE
— ROB (@_ROB_29) July 11, 2019
full story at https://www.thegatewaypundit.com/2019/07/hide-your-kids-hide-your-wives-we-got-the-key-to-the-motherfing-city-trashy-us-womens-world-cup-soccer-champs-utter-profanities-all-during-nyc-parade/