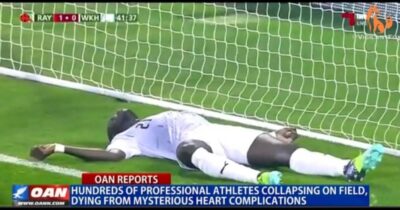 in World News
German Data Analyst Reveals Data from Health Insurance Shows Increase in Sudden Deaths Following COVID Vaccine Rollouts
German data analyst Tom Lausen held a conference on Monday in the Bundestag to discuss the massive rise in people who died "suddenly and unexpectedly" after the Covid vaccine rollout.
Only one mainstream journalist was present during the press conference.
The National Association for Statutory Health Insurance Physicians (NASHIP) provided the data covering over 72 million insured Germans.
NASHIP or "Kassenärztliche Bundesvereinigung (KBV)," is the coordinating body of all 17 State Associations of Statutory Health Insurance Physicians in Germany. As of 2018, it represented about 175,000 office-based physicians and psychotherapists.
"The association is also actively involved in negotiations on the range of services provided by statutory health insurance companies and the remuneration of doctors. Furthermore, the KBV carries out a "security mandate" in accordance with Section 75 (1) SGB V, which is intended to ensure that all legally insured patients can receive adequate outpatient care."
TRENDING: BREAKING: SEC's Indictment of FTX's Bankman-Fried Released – Any Mention of the AMOUNT of Donations from FTX to Politicians is Omitted – (Attached)