in World News
A Second Bank CLOSED by FDIC: Who's Next and What Should We Do?
After Silicon Valley Bank had its deposits seized by the FDIC, on a Friday, as predicted, there's a sense of unease across the country. Depositors have been unable to access their funds, and we're all wondering, "Am I next?" Many of us are quickly making a transition to physical investments we can hold in our hands because the future of banking is incredibly concerning.
On Sunday night, a second bank was closed by regulators and its deposits have also been put in control of the FDIC. Signature Bank out of New York was shut down to "protect consumers and the financial system," according to a joint statement released by the U.S. Treasury Department, the Federal Reserve, and the Federal Deposit Insurance Corporation.
According to that statement:
Depositors of the Silicon Valley Bank will have access to all of their money – following the bank's failure on Friday – at no loss to American taxpayers…

…"Today we are taking decisive actions to protect the U.S. economy by strengthening public confidence in our banking system," the joint statement read. "This step will ensure that the U.S. banking system continues to perform its vital roles of protecting deposits and providing access to credit to households and businesses in a manner that promotes strong and sustainable economic growth."

The statement said Treasury Secretary Janet L. Yellen had approved actions enabling the FDIC to complete its resolution of SVB "in a manner that fully protects depositors."

Depositors will have access to all of their money starting Monday, March 13. The taxpayer will bear no losses associated with the resolution of SVB.

Notably, the regulators' statement also announced the shutdown of New York-based Signature Bank.

"We are also announcing a similar systemic risk exception for Signature Bank, New York, New York, which was closed today by its state chartering authority," the joint statement read.
So that's two down.
And while they're saying that isn't a bail-out, it sure sounds like a bail-out. More on that shortly.
What we could be facing is anything from "watch and wait" to bank runs to a market collapse. I'll update throughout the day.
Beware the banking information blackout
I started writing this article on Sunday afternoon, and I'm finishing it at 3 am US time and will update today, Monday, March 14th, as the situation unfolds.
Congress has already talked about censoring any "bad actors" who dare to talk about this banking collapse.
Please watch your email (sign up here) or check back directly to get updates.
A number of sources I cited in my Sunday research have already been removed. If you click and face broken links, that's why. I took screenshots of some things but not of others. (Unfortunately – silly me.) This is also why you may see sources here that I don't generally use.
I'll provide the best information I can during this crisis and my best assessment of what's going on.
Who's next?
You're probably wondering who's next. What banks will be targeted by the FDIC for shutdown, and is it one that YOU use?
While it's impossible to predict – Signature Bank was not included in the warning lists that I've found – here's what we know about banks with numbers that look similar to SVB, as well as some really interesting information about the collapse of Silicon Valley Bank that you may not have heard yet.
The Ultimate Guide to Frugal Living: Save Money, Plan Ahead, Pay Off Debt & Live Well by Daisy Luther
These banks are concerning some experts.
While it's impossible to say which banks are next to fall, there are some institutions that are sitting in precarious situations. According to Morningstar.com, these banks "raised similar red margin flags to those of SVB." They show negative accumulated other comprehensive income "as a percentage of total equity capital." (NOTE: Since I wrote this article last night, the article on Morningstar.com has been taken down. Hmmm….some of that censorship that Congress was talking about?)
Customers Bancorp Inc. of West Reading, PA
First Republic Bank of San Francisco, CA
Sandy Spring Bancorp Inc. of Olney, MD
New York Community Bancorp Inc. of Hicksville, NY
First Foundation Inc. of Dallas, TX
Ally Financial Inc of Detroit, MI
Dime Community Bancshares Inc. of Hauppauge, NY
Pacific Premier Bancorp Inc. of Irvine, CA
Prosperity Bancshare Inc. of Houston, TX
Columbia Financial, Inc. of Fair Lawn, NJ
But these aren't the only organizations at risk as per Morningstar. These had some of "the highest ratios of negative AOCI to total equity capital less AOCI."
Comerica Inc. of Dallas, TX
Zions Bancorporation of Salt Lake City, UT
Popular Inc. of  San Juan, PR
KeyCorp of Cleveland, OH
Community Bank System Inc. of DeWitt, NY
Commerce Bancshares Inc. of Kansas City, MO
Cullen/Frost Bankers Inc. of San Antonio, TX
First Financial Bankshares Inc. of Abilene, TX
Eastern Bankshares Inc. of Boston MA
Heartland Financial USA Inc. of Denver, CO
First Bancorp FBNC of Southern Pines, N.C.
Silvergate Capital Corp. of La Jolla, CA
Bank of Hawaii Corp. of Honolulu, HI
Synovus Financial Corp. of Columbus, GA
Some reports say that Silvergate, a crypto-focused bank, has already gone under.
Stuff you couldn't make up
It's extremely interesting to note one specific fact about Joseph Gentile, the CAO of SVB. Gentile seems to have a history of being at the helm of ships that sink in a very dramatic fashion. In fact, his job before SVB was at…
…
Lehman Brothers.
Yes. That Lehman Brothers.
Prior to joining the firm in 2007, Mr. Gentile served as the CFO for Lehman Brothers' Global Investment Bank where he directed the accounting and financial needs within the Fixed Income division.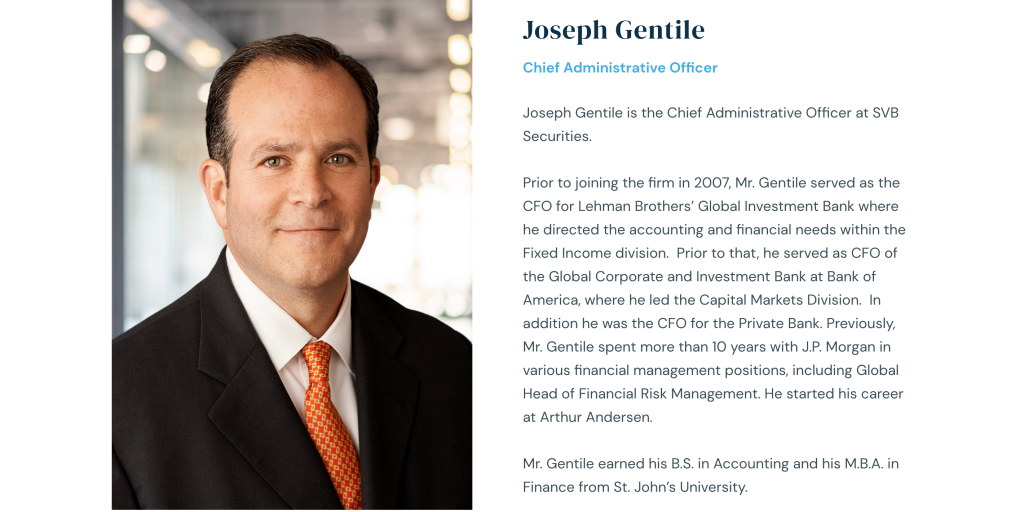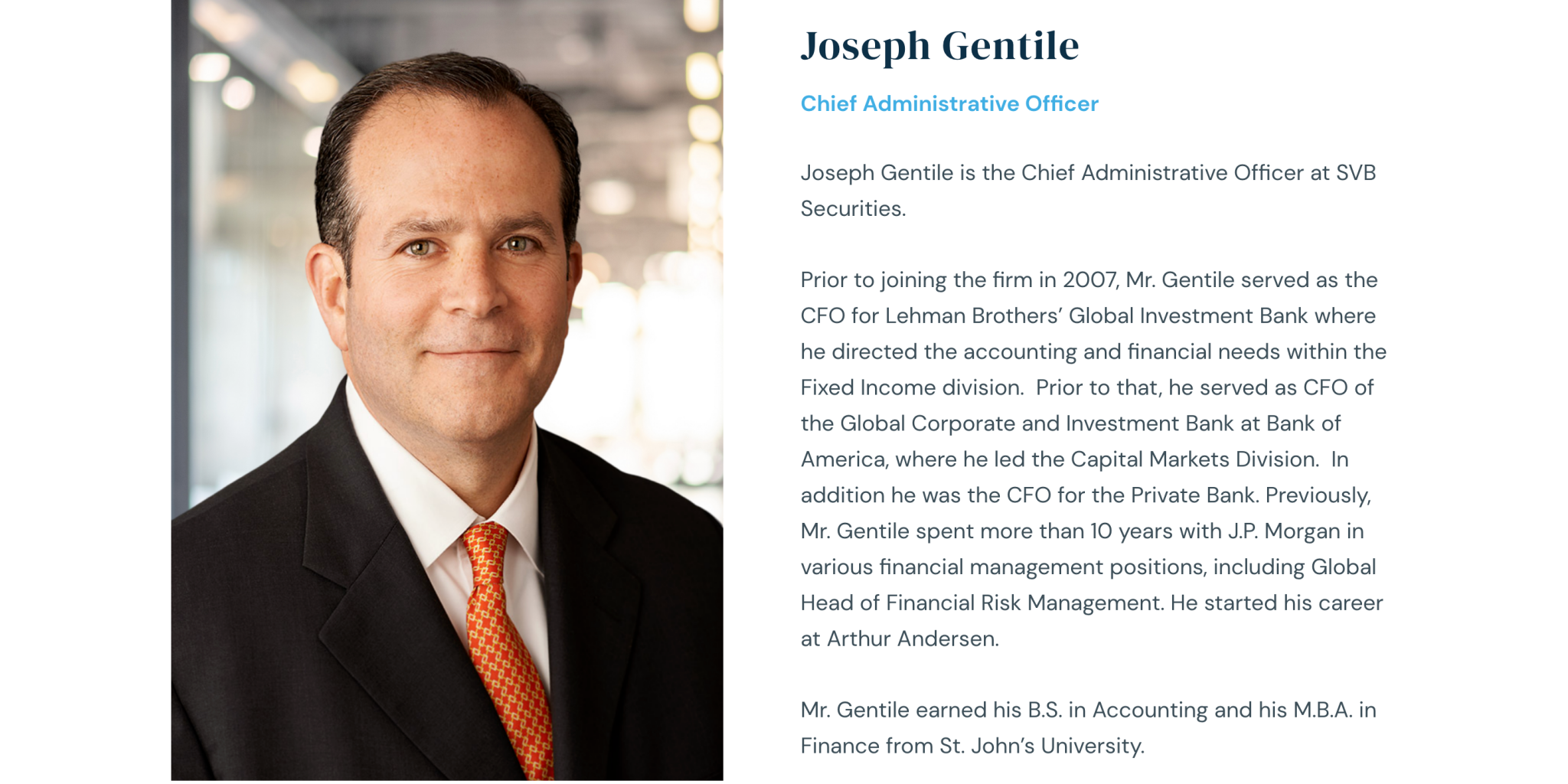 It's like one of those "crisis actors" that certain factions swear show up at every horrible mass-casualty event.
Except, this one is absolutely and irrefutable true.
Is Gentile simply the worst banker on the planet? The victim of horribly bad karma? Or is there something more at play here? An article on Breitbart goes further into the background of Mr. Gentile.