in World News
Apple Tells Support Staff To Remain Silent On iPhone Radiation Concern
by Tyler Durden
Apple plans to issue an over-the-air update in the coming days for iPhone 12 users in France after regulators ordered a halt in sales over concerns the device emits too much radiation.
"We will issue a software update for users in France to accommodate the protocol used by French regulators," Apple told Reuters in a statement.
The company continued, "We look forward to iPhone 12 continuing to be available in France."
Earlier this week, French regulators ordered a ban on iPhone 12 sales after a Specific Absorption Rate (SAR) test – how much radio frequency is absorbed into a body from a device – exceeded European radiation exposure limits.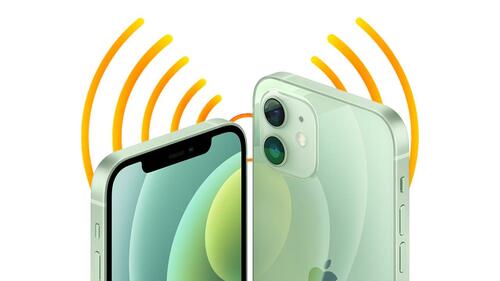 Besides the iPhone 12's radiation levels, another controversy is brewing as Bloomberg said Apple instructed employees to stay 'mum' when customers ask about the radiation issue:
If customers inquire about the French government's claim that the model exceeds standards for electromagnetic radiation, workers should say they don't have anything to share, Apple employees have been told. Staff should also reject customers' requests to return or exchange the phone unless it was purchased in the past two weeks — Apple's normal return policy.

Customers asking if the phone is safe should be told that all Apple products go through rigorous testing to ensure that they're safe, according to the guidance.
Apple dismissed the radiation claims, indicating "this is related to a specific testing protocol used by French regulators and not a safety concern" for customers. "The ANFR [French regulator] is preparing to quickly test this update," Noel Barrot, France's digital affairs minister, told Reuters.
The timing of the iPhone radiation concerns comes the same week Apple announced its all-new lineup of the iPhone 15 and iPhone 15 Pro… Coincidence?
We've told readers over the years about radiation risks while using smartphones:
In today's digital age, handheld devices are brought everywhere, from the bedside to the kitchen table to the office and even to the bar. One has to wonder if radiation exposure from smartphones is supercharging certain types of cancers.